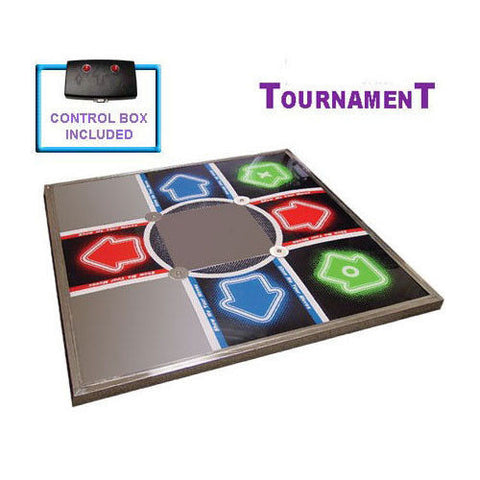 DDR V3 Tournament Metal Dance Pad Mat for PS / PS2 (Xbox 360 - Optional)
The Tournament Metal Dance Pad features the super heavy duty one-piece steel frame surface and Hammer-Proof thick Poly Carbonated Button Arrows. From the result of our lab tests, these pads can hold more than 500LB (the average of other metal pads on the market can handle just 300 lbs). More importantly, these new pads have been enhanced with the Punctuated Weight into the design. What is Punctuated Weight? After years of experience in designing DDR pads, we have realized a DDR player's weight is about 300 lbs in a stand still position. But when he is playing and stomping on the button arrows, the player's weight actually adds up higher because of the heavy stomping. The penetrated energy can easily shatter the button arrows. After numerous tests, we have incorporated the best quality of the Poly Carbonated material onto the button arrows. The thickness of these button arrows is almost double compared to the other metal pads on the market. If you try to use a hammer and slam on the Button Arrow, it will leave just a minor scratch on the surface. We are proud to announce that these dance pads are the highest quality metal dance pads in this planet.
The all new models also feature the new super sensitive wiring technology. The advanced wiring system provides the maximum sensitivity to ensure accurate scores and no more delays. As with the finishing look of the new models, we kept them with the same color design as the previous versions, since they are close to the real arcade machine's appearance.
Smooth Edges and 4 screws design
Heavy Duty, can handle player weight 500 lbs+
Control Box Included works with PS One or PlayStation 2)
Hammer-proof thick polycarbonate arrow buttons (double the thickness of other metal pads in the market)
Advanced wiring for super sensitivity - no more delay
0% noise level, no noise when jumping on arrows
This metal platform will work on carpet or hard floor
The entire metal platform frame is metal, Weighs about 30 lbs
EVA foam base (non-slip bottom) so that the pad won't slip around
No assembly required
Power is drawn directly from the PS One, PlayStation 2
Specifications:
Dimensions : 34 1/2" x 34 1/2" x 1 1/2"
Dimension of each arrow: 10 3/4" x 10 3/4" x 1/8"
Play Area: 32" x 32"
Non-Slip Bottom: Yes
Net Weight: 30 lbs
Gross Weight: 40 lbs
Cable length of metal platform: 9 feet
Adapter: control box (connects to PS One, PlayStation 2)
Power Source: direct from PS One, PlayStation 2
Material of Platform: Stainless Steel
Smooth Edges: Yes
Number of Buttons: 6
Number of buttons for control box: 2
Sensitivity: High
Material of Arrow: poly-carbonate
---
We Also Recommend