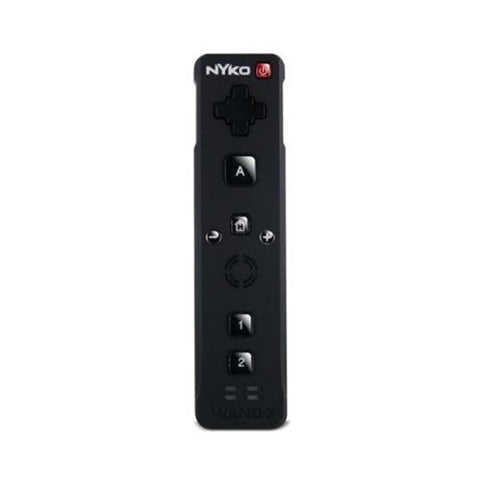 Nyko Wand+ Wii Controller (w/ Built-in MotionPlus) - Black
Experience the most advanced Wii Remote alternative in the world with the Nyko Wand+. The Wand allows for complete control of all compatible Wii software and menus and features full accelerometer control support, vibration feedback, and built-in speaker as well as Nyko's new Full Motion Technology. Full Motion Technology provides 1:1 movement tracking fully compatible with all Wii Motion Plus games without the need for any extra dongles or add-ons. With the Wand in your hand, you'll have total control of all your Wii software as well as a rubberized B-Trigger, larger 1 and 2 buttons and an improved and re-worked d-pad for more comfortable and accurate classic and horizontal game play. The Wand is ergonomically crafted for left and right handed use with a form factor designed for maximum compatibility with 1st and 3rd party accessories. Expand your control possibilities with Nyko's Trans-Port Technologies, exclusively developed for the Wand. Trans-Port Technology allows specially designed attachments to pass through key buttons to the attachment, allowing for more responsive attachments that can easily integrate with your Wand controller for a variety of games.
For Nintendo Wii Full compatibility with all Wii Software
Full Motion Technology for compatibility with all Wii Motion Plus games with no additional dongle.
(Built-in MotionPlus Function) Trans-Port Technology allows for use of custom shells and accessories
Accelerometer for motion control game play
CMOS camera for pointer/cursor functionality
Play wirelessly up to 20 feet away from the console
Enlarged buttons and re-designed d-pad allow for convenient horizontal play
Powerful speaker provides instant audio feedback
Full rumble support
Unique aesthetic design with rubberized underside for optimal grip
Padded silicon grip included for additional protection and safety
---
We Also Recommend